About Us
Designer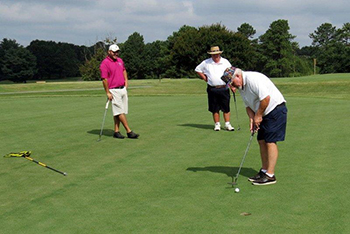 Russell Breeden, well-known in the world of golf course architecture, and one of the top senior designers of the 20th century, made a name for himself by designing courses that are friendly and enjoyable for anyone to play. Breeden, born in 1917, moved his family out of their home state of Virginia to become an assistant to Fred Findlay, a legend in golf architecture. After years of understudying and perfecting his skill, he ventured out on his own in 1961 to begin constructing courses with his unique vision. His hands-on approach was described by his wife as "someone who preferred to be in a bulldozer than at the drawing board." Regional golfers agree that River Bend is one of the best designed golf courses in the western piedmont.
Course Overview
Opened in 1966 by Bob and Paul Porter, the River Bend YMCA Golf Course is one of the few YMCA owned golf courses in the United States, resting its ideals and mission on values of character building and self potential. River Bend is a beautiful 18 hole course surrounded by the mountains of western North Carolina. The course is ideal for anyone with a passion for a challenging golf experience and spectacular scenery.
River Bend utilizes many of the existing features of the area to provide a natural and aesthetically appealing golf course. The routing flows through the existing contours of the land effortlessly, thus creating a continuous succession of sensational holes.
The course offers four sets of tees that allow players to encompass a full range of opportunities to enjoy the game. River Bend offers exciting golf for players of all skill levels.
Below you will find the USGA Course Ratings, Slope Ratings and course yardage based on chosen tees.
The U.S.G.A. Course and Slope Ratings are:
| | | |
| --- | --- | --- |
| Tees  | Men's | Ladies' |
| Black | 72.5/134 |   |
| White | 69.8/130 | 75.7/139 |
| Gray | 67.0/119 | 72.0/126 |
| Red | 64.5/111 | 69.3/117 |